FAST, EASY, SECURE
Document legalization,
verification and
extension services
Get a Vietnam e-Visa Online
Getting a visa may always be the first obstacle you encounter before each trip abroad. With Get Visa Vietnam, your burden is lifted. We assist travelers with different types of visas and extra services in couples of days.
---
Hello, avid travelers around the world. If you're looking at a trip to Vietnam and want to save the time for your trip, one of the best choices that you can't ignore is a Vietnam e-Visa.
Vietnam Emergency visa is a e-Visa which is processed in 1 – 2 working days since you filled out the online registration form and completed payment.
How To Get Vietnam Visa?
Apply Vietnam Visa online because of its convenience, simplicity, money and time saving.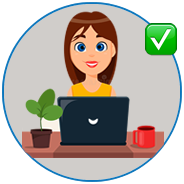 01. Complete Online Application Form
Fill out the online form visa application and pay the service fee. Your information is confidential.
02. Receive Visa Via Email
Normal service: Guaranteed 4-6 working days.
Urgent service: 2 working days.
Super urgent service: 1 working day.
03. Show Visa at the Entry Gate
Present your passport, print the enclosed e-visa and prepare both round trip tickets.
Other Services
We also provide for you the following all-in-one package which covers every little thing you need for your vacation.
Right after landing, our staff will greet you with the welcome-board. In case of early landing, you cannot find our staff, please call our Hotline +84 9 8852 2908.
Our reliable competitively priced Airport Car Pickup have a wide range of vehicles to suit your budget and seating requirements.
We offers a wide range of Vietnam tours in big cities of Vietnam, including Hanoi, Ho Chi Minh City, Hue, Hoi An and Nha Trang...